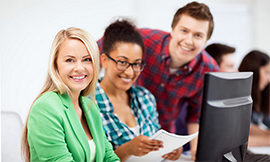 Mission Statement
OUR MISSION IS TO IMPROVE EDUCATION THROUGH INNOVATION AND PARTNERSHIPS TO PROVIDE SOLUTIONS THAT SUPPORT STUDENTS, PARENTS, AND SCHOOLS.
My Online Academy promotes student-centered online communities, assists school in creating their own online academy, and helps schools manage their online academy to achieve the highest outcome. We offer a full suite of courses for elementary, middle and high school students in all core subjects, and 200+ elective subjects.
We partner with schools, teachers, and families to encourage and inspire student success. Our partnership includes building your School's Online Academy at no cost. Each Online Academy is uniquely designed to promote your own brand and is fully integrated with your School's existing online presence.